Cleaning chiller and water treatment for chiller
Treatment for chiller should be done well with the correct method to ensure safety, efficiency and cost optimization. Treatment for chiller includes cleaning scale and measures to prevent any trouble. So which method is considered the most effective today? Let's find out more details through the article below!
1. What is water treatment and chemical for chiller?
Chiller consists of two parts: hot and cold. In particular, the hot part is cooled by water or air, the cold part will reduce heat through circulating water – Both of these two ways of heating up and cooling down are having problems with deposits and corrosion, so it is necessary to treat controlling scale for good heat transfer efficiency, avoid clogging, prolong life, etc.
The condenser is the part that heated up and then will be cooled by water ( of cooling tower ) or air ( fan).
Evaporator will cool water (indirect through refrigerant). Then, keep temperature low – cold for building space, peeling house, production line.
Treating scale for chiller is mainly refers to for hot part of condenser whether cooled by water or air
Cleaning scale for evaporator is almost its dirty due to not good pre-treatment for new chilled water system or scale formed during make up water into the opened water system of chiller
Please refer to the articles "chemical for cooling tower" and "cleaning boiler and other industrial equipment" for more detailed information on causes and cleaning procedures.
Therefore, cleaning scale for chiller includes sections below.
1.1 Cleaning scale for chiller that its condenser cooled down by water of cooling tower
Cleaning condenser of chiller that cooled by water of cooling tower.
1.2 Cleaning coil, fin and evaporator for Air-chiller
2. Water treatment program for the cold and hot closed circulation water systems
First of all, should distinguish water treatment and chemicals used for closed and open systems. The treatment process also has some differences, although both os these still called is chilled water treatment. For more please contact us
| | | |
| --- | --- | --- |
| Features | Open chilled water system | Close chilled water system |
| Air contact | Yes | No |
| Make up water | Less to more | Less or no |
| Pre-treatment for new chiller | Little difficult | Easier |
| Chemical for chiller maintenance | More quantity | Less quantity |
Some distinguishing points for water treatment and chiller of close – open chiller system
2.1 Why need water treatment and chemical for chiller system?
This section mention with water treatment for close chilled or hot. If thinking that these systems do not lose water or just little, so there is no problem, no need care much, that may be wrong, because in reality, this close and open circulating water system has many problems happenning
Cleaning chiller and water treatment for chiller system that made of ungalvanized steel should be well done at initial time
1-The deposit, biofilm contain many microorganisms, Legionella
Need to control Legionella
Microorganisms and biofilm are some targets of chiller water treatment
2-Corrosion and deposit:
Scale trouble due to not well water treatment for chiller
Enlarged image of corroded pipe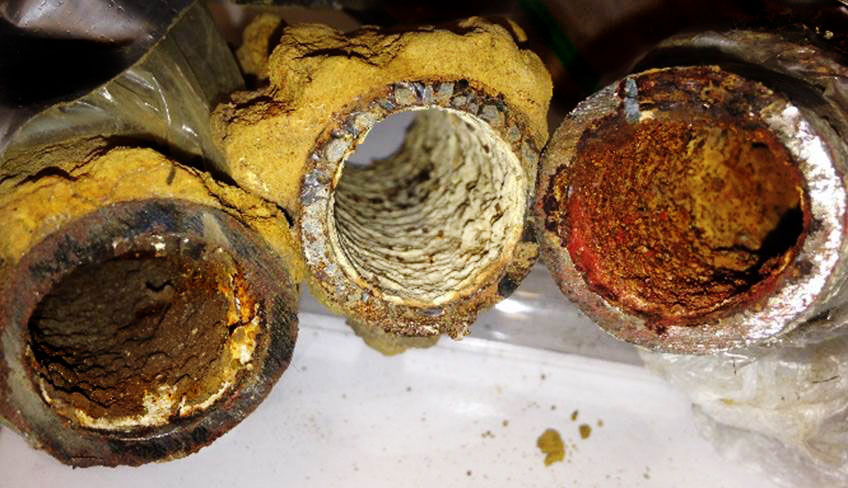 Corrosion and deposits are more common in not closed recirculating systems, (oxygen dissolved and make up water).
2.2 Cause and treatment for chiller system
Select suitable metal for close and open circulating system. In case open system that made of ungalvanizing steel but without well pre-treatment at initial, will be trouble happening
Design suitable velocity, high speed cause erosion – corrosion, low speed cause deposition. Having a water meter of make up water with an automatic synchronous chemical filling system, installing online pH controller, TDS to monitor and warn will have high efficiency for system with make up water
A microfilter is required to remove any impurities from the water, kepp system stability.
Design and construction of chemical feed tank available.
Need initial treatment

for chiller

including cleaning and passivation with chemicals NC-C200, NC-P200…

for the new chiller system

before going to official operation.
It is necessary to ensure the quality of the make water and treat it with anti-corrosion, anti-microbial and anti-scale for the

closed chiller system

with chemicals NC-C402, NC-NX100,

opened chiller system

with chemicals NC-C403, NC- NX100. Periodically check chemical, physical, microbiological indicators and chemical concentrations for timely adjustment.
Cleaning chiller and water treatment for chiller
NC-C200; NC-P200 for pre- cleaning and passivation of ungalvanizing steel system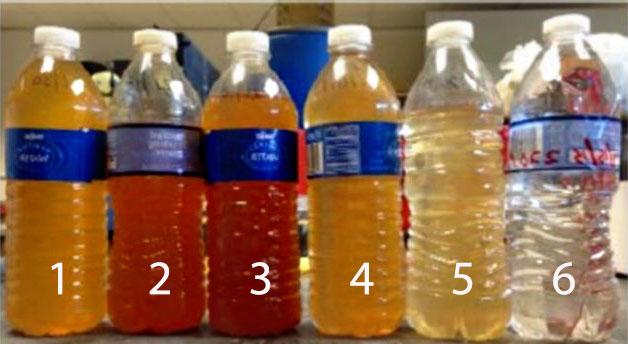 6 steps of water treatment for chiller

Treatment process from left to right:
1: Flushing new metal system with water
2, 3: Cleaning with chemical NC-C200 after 1 hour and 4 hours.
4: Passivation with chemical NC-P200 for the first time.
5: Monitor and adjust parameters during passivation.
6: Maintainance chemical for chiller with NC-C402, NC-NX100 during operation time
3. UCE Co., Ltd provides effective and safe for Cleaning chiller and water treatment for chiller
On the basis of deep expertise and extensive experience, we always research and develop to bring efficiency and safety in the treatment of chiller for customers.
Contact us for free support services to survey the current situation, analyze and evaluate water quality, and offer full solutions with the lowest cost, fastest.