You can also listen to this article at Youtube: 
When the water is heated to the boiling point, the steam will evaporate and the impurities and dirt also will be accumulated in boiler then gradually causing scale and corrosion. Therefore, for the best result, need control the good, good operating management and use boiler chemical are necessary
Boiler water treatment with chemical
1. Why should boiler water be treated?
The treatment of boiler water is not difficult, nor is it easy. During past time, we have discussed, answered, guided on sites; online support to bring self-control to operators and direct supervisors. However, it is advisable to take the time to understand the following basics so that further discussions will be easier and faster.
1.1. Ingredients of water sources causing trouble
First, it is necessary to distinguish water and H2O (water molecule).
Water (contains many components)
=
1
H2O ( Evaporated to be steam).
2
Dissolved gases CO2, O2,…
3
Cationic Ions Ca, Mg, Fe,…
4
Anionic Ions CO3, SO4, Cl, Si,…
5
Non-ion matters.
6
Supspended solid
7
Compounds of organic, smell, chlorine..
8
Micro-organism…
– When water heated to boiling temperature, H2O evaporated to be steam, CO2 and some other dissolved gases also to steam in ionized state causing pipeline corrosion, all the remaining substances accumulate in water drum causing corrosion, deposits, etc.
– During operation, when components from 3 to 7 exceed the allowable level, it will also evaporate with called "carried over", causing problems for the pipeline and steam quality.
General diagram of boiler water treatment
1.2. Purpose of boiler water treatment
Anti-scale to improve heat transfer efficiency for highest efficiency, saving fuel.
Prevents corrosion in water and steam drums, and steam –condensate lines – production lines; prolong lifetime of boiler system and equipment, ensuring safety during operating.
Avoid the unstable bubbles boiling; ensure good steam quality for production.
Reduce blowdown to save energy and costs because the unit price of m3 of boiler water is much more expensive than untreated water or feedwater
Limit stopping boiler for maintenance to save both time consuming and costly.
Environmentally friendly because of limited cleaning with chemicals.
On the contrary, if the boiler water is not well treated, then need to clean boiler frequently, otherwise it will reduce the boiler life and increase maintenance costs.
2. Feed water treatment for boiler
2.1. Harmful components present in water supply
Analyze detailly the water source to have a suitable treatment, the higher quality  the lower cost of treatment, as well as more effectively saving  energy .The following are  causes of problems  should be known then treat to avoid it
Main components
Problem
Make water treatment
Low – high pH
Corrosion, scale
Alkalinity stable control
Độ cứng – Hardness
Scale, deposit.
Softener to limit trouble
Suspended solid
Scale, deposit.
Sand filter, UF filter…
Dissolved gases
Corrosive to boiler, steam and condensate piping
Well de-gases to minimize trouble and chemical use
Silica, SO4
Cặn bám.

Scale, deposit.

RO, DI Mixed Bed; EDI

Depends on pressure

Chloride
Ăn mòn.

Corrosion

Total Dissolved solid  – TDS
Cặn bám, ăn mòn.

Scale, corrosion

Clo – Chlorine
Corrosion
Active carbon or chemical
Carried –over to steam
Impurites to steam
Good design of boiler
The above information is for reference only, depending on the water source and other requirements to have suitable treatment with good equipment at lowest investment and operating costs.
2.2. How high quality is feed water need to be treated
The better of feed water treatment, the lower of cost of boiler water treatment chemicals, but it also means high investment costs, so it should be considered overall for the best efficiency.
1- The cost of investment and operation to avoid deposit, heat loss due to the thickness of the residue boiler in which, 3 components that cause the most losses are Silica, Iron and Calcium.
Example:
– If only installing softener to solve Ca + Mg, the cost is low, but there may be problems of Silica and Iron deposits causing heat loss, exceed the allowable limit and follow the vapor.
– Installing RO system (or DI Mixed Bed ) will no longer have Calcium, Silica, Iron scale problem, will not lose heat due to the thickness of the residue and less blow-down, good steam quality but high investment and operation cost
2- Experiments on energy loss related to the thickness of each type of deposite, for example, with the same thickness of 0.8 mm, the Silica and Iron deposit, the Iron deposit,  Calcium deposit cause a loss corresponding to of 7%, 3%, and 2%.
Deposit thickness is proportional to energy loss
3- In case need to use RO system but no RO applied, not only the energy loss due to blowdown may increase from 5-10% but also Silica deposit s that not only cause additional heat loss but are also very difficult to clean.
4- In many cases, Silica and heavy metals are not too high from water source but will also cause scale, it is necessary to use suitable to avoid this troudble because normal chemicals are not capable enough to handle it , for example, NB-300Si is well controlled with Silica to 300 ppm, NB-A900 is suitable for heavy metals (Without scale, clean boiler ), … both to save energy, and to avoid investing RO (or DI Mixed Bed) water system for feed water.
Contact us to analyze the energy topic and bring the highest efficiency!
3. Classification of boiler chemical for efficient apply
3.1. Uses of boiler maintenance chemical
1- Scale, deposit inbibitors, keep metal surface clean.
2- Corrosion inhibitor caused by dissolved oxygen, low pH, high pH…
3- Keep stable boiler water, prevent bubbly boiling that make impurities carried – over to steam.
4- Corrosion for steam lines, production equipment and return lines.
3.2. How many chemicals are enough
Boiler water treatment chemicals, also known as boiler chemicals or boiler maintenance chemicals, are divided depending on the factors of feed water quality, boiler or steam capacity, temperature of deaeration tank, condensated return rate … Maybe a product will have all above features or be separated to optimize use, but in general 1 full function product for small boiler but 2 – 4 products for large boiler capacity
The most concerned issue is how to save on boiler water treatment – That is, the better quality feed water, the lower cost of chemical.
The concentration of chemicals used varies depending on quality of each make up water
DOSAGE OF CHEMICAL USED DEPENDS ON THE QUALITY OF FEED WATER
No
Functions of chemical
Feed water quality
Dosing, kg / m3­
1
Corrosion inhibitor for boiler, feed  tank

NB-C503; Ultra-C100…

Without de-gases
0.1 – 0.3
Good de-gases
0.05 – 0.1
2
Scale inhibitor and deposit dispersant

NB-S503; NB-A900; NB-300Si…

Soft water
0.07- 0.2
RO, DI water
0.05 – 0.07
3
Corrosion inhibitor for steam and condensate line

NB-M532; NB-N356…

Without de-gases
0.03 – 0.1
Good de-gases
0.01 – 0.05
Dosing of chemicals – reference
4. Process of using boiler water treatment chemical
Each difference stage of boiler system that need treatment and maintenance with difference function chemicals
SOME POPULAR CHEMICALS COMMONLY USED IN DIFFERENT STAGES
I
Pretreatment for new boiler
NB-PC50
NB-PP50
NB-P100
Precleaning
*
*
Passivation for boiler just cleaned
*
*
II
Maintenance chemical
NB-2600
NB-6454
NB-A900
NB-S503
NB-C503
NB-M532
1
Corrosion for boiler and feed tank
*
*
*
2
Scale inhibitor and deposit dispersant
*
*
*
*
3
Corrosion inhibitor for steam and condensate
*
*
III
De-scale chemical for boiler
ND-HF701
ND-L701
ND-SM10
ND-H701
1
Cleaning chemical for Silicate scale
*
*
2
Cleaning for heavy metal scale
*
3
Cleaning for general scale
*
4.1. For new boiler
1- Pre-cleaning chemical for purpose: Remove grease, surface metal oxidation, welding slag, … to avoid local corrosion during operation.
2- Passivation chemical for purpose: Create an inert layer by letting chemicals react with the surface to form Fe3O4 to limit corrosion in the initial time.
4.2. For operating boiler
During operation, if not good feed water and boiler treatment chemical as well as not well managed, that cause many problems, at this time it is necessary to periodically check insdie and clean boiler, and however, over times cleaning should be limited
4.3. For off-operating boiler
1- Wet maintenance: The advantage is that boiler can be re-operated at any time, but it is necessary to keep it under pressure, enough chemicals to prevent oxygen absorbed in making corrosion, maintain correct pH and no deposition in the boiler, the lower TDS the better result
2- Dry maintenance: The advantage is simple, because only enough desiccants, but boiler  must be cleaned and passivated the surface before performing dry storage. When it comes back to work, it will take time to prepare operating
5. How to ensure the best steam quality for steam pipe protection and for production
The best steam is an important target, not only for production but also to ensure the steam pipeline without dirt and corrosion.
Many customers (whether using chemicals and services from other suppliers) contacted and we helped finding the cause and improved the situation. Understanding the causes will have a good solution. Any cause can occur, so it is necessary to ensure that the following factors are met to have pure steam quality.
1- Good mechanical design to ensure the lowest water in steam (<1 – 2%).
2- The water level in boiler is not too high.
3- Ensure a stable heat source, avoid sudden or excessive increase.
4- Eliminate dissolved gases, organic matter and grease in water.
5- Ensure highest feed water quality and operate boiler water parameters not exceeding the allowable limit according to the boiler pressure.
6- …
Particularly, the use of boiler water treatment chemicals requires contains de-foamer component that avoiding the bubbly boiling,   which can be mixed with maintenance chemicals or if dosing, separated like product DF-AF27 will help improve steam quality water remarkable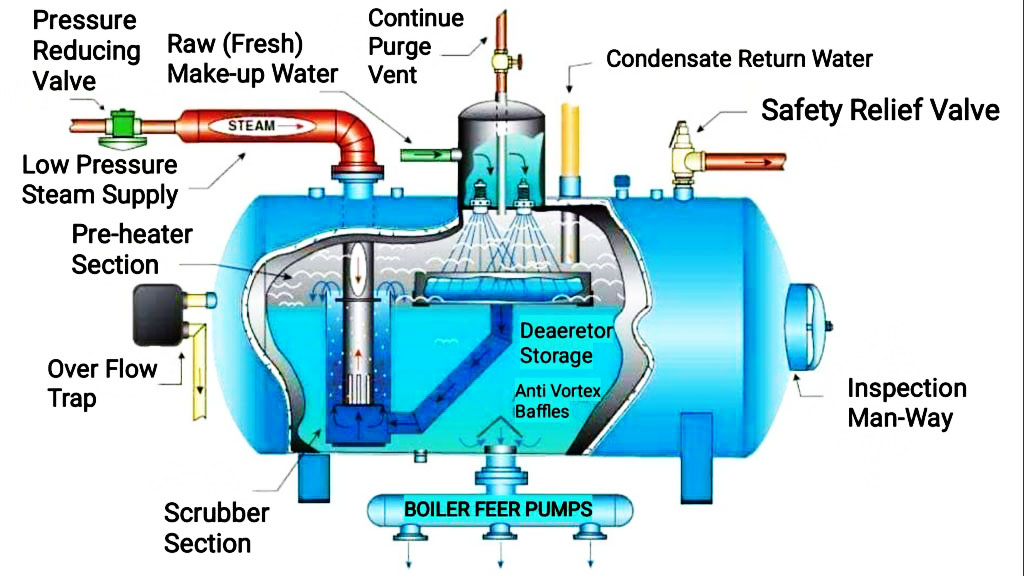 Efficient de-aerators offer many benefits
6. Not only handing-over the self-control to operators via supply knowledge, process, quick test tool, also be online to support
UCE Co., Ltd always have tried to bring the highest level of self-control to customers, from understanding water parameters to operating and maintaining instructions, calculating the amount of make up – blowdown water…
UCE Co. Ltd always be ready to supports customers in boiler water treatment by anyway
For boilers, for the best treatment result, it is necessary to focus on 3 main points, which are:
1- Feed water quality management: In which, hardness management and timely regeneration are essential.
2- Well blowdown control: The operator's difficulty is when to blow down the furnace and how much.
3- Use correct and sufficient chemicals: Periodic analysis and adjustment of the metering pump.
Some online calculation will help draftly estimation. Please refer to https://uce.com.vn/vi/trang-chu/ or go to the SUPPORT section to get more information

Example of boiler water quality prediction over time
Just contact us – UCE Co., Ltd to control the highest water quality with the lowest cost!